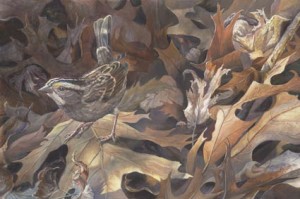 November 11, 12, 13, 2011
The Armory
Easton, MD
Featuring wildlife art in varied disciplines including painting, carving, sculpture, photography and fine crafts, the show also hosts collectors of decoys, duck stamps and waterfowling memorabilia. Each participant chosen by Festival officials has shown exceptional talent, ability or expertise in their field. Only 300 wildlife artists, artisans and collectors from throughout the world have been selected to gather this weekend to showcase the best of the best.
In addition to an abundance of wildlife art in many forms, the Festival hosts retriever and fly-fishing demonstrations, a Dock Dogs Competition, and World Championship Calling Contests. Free shuttle bus service, Eastern Shore oysters, crabs and clams, strolling musicians, and children's activities add to the festivities. All Festival tickets, for one, two, or all three days, are only $10! Children under 12 are free accompanied by paid adult.
For additional information, contact the Waterfowl Festival at 410-822-4567 or visit the Festival's website: www.waterfowlfestival.org.